Linda M. Jackson
Partner
Linda is a first-chair trial attorney with significant experience representing clients before federal, state, and appellate courts.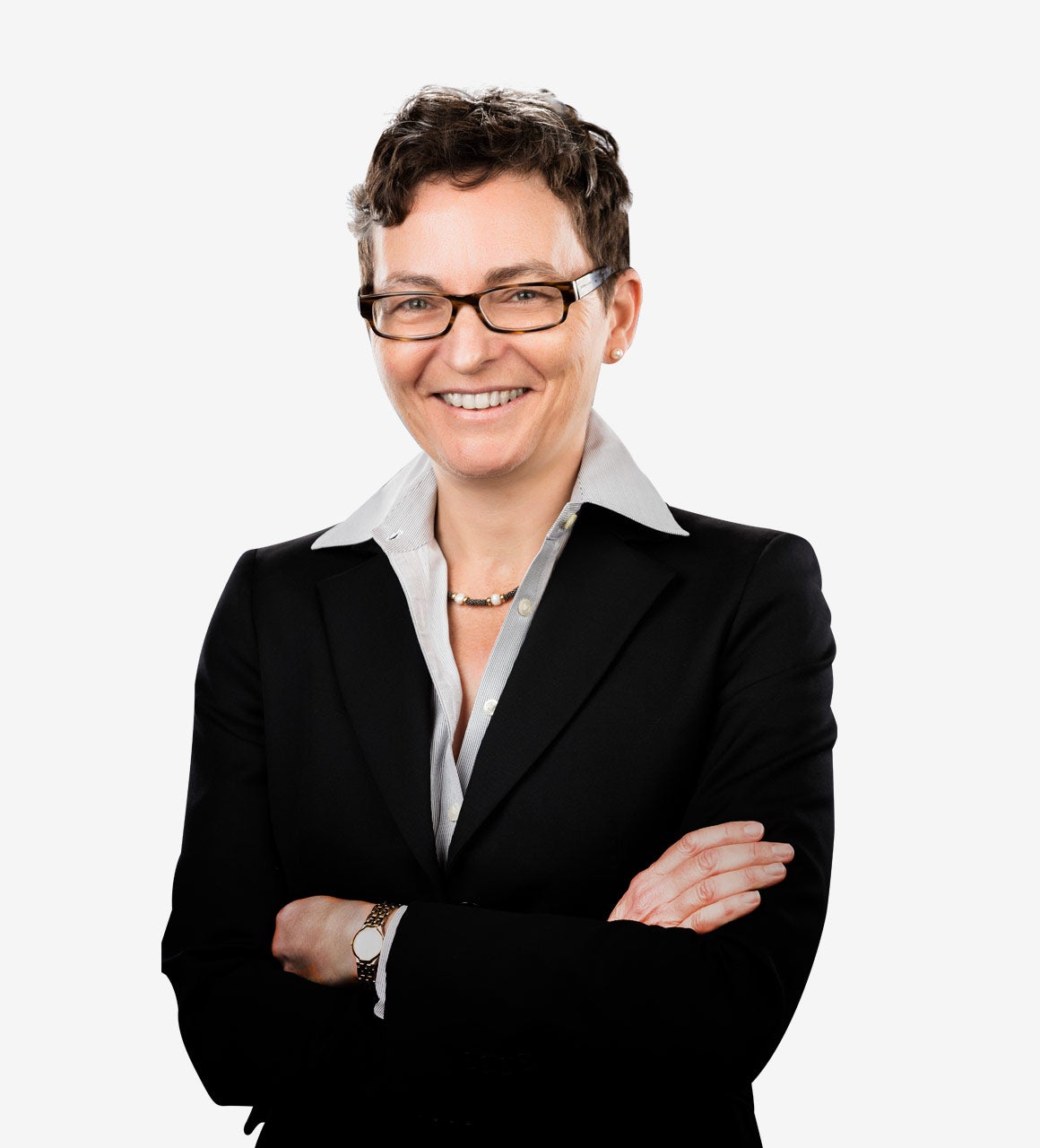 Linda has a particular focus in the Eastern District of Virginia, also known as the "Rocket Docket," and the state trial courts in Northern Virginia, including Fairfax, Arlington, and Loudon counties.
An aggressive litigator, Linda understands her clients' business objectives. Her pre-litigation and litigation strategies are designed to meet clients' business goals efficiently, and she keeps them up-to-date as a case proceeds while advising on options at critical decision points.
Linda's practice includes:
Non-compete, non-solicitation, and non-disclosure negotiation and litigation
Civil business conspiracy, tortious interference, and other business competition issues
Executive contracts and compensation
Shareholder litigation
Whistleblower and retaliation investigations and litigation
Trade-secret disputes
Business torts, including defamation, breach of fiduciary duties, and duties of loyalty
Employment discrimination and wrongful discharge
Linda has represented clients in industries such as government contracting, professional services, associations, supermarkets, airlines, law firms, technology, health care, child care services, telecommunications, and commercial and residential development.
Previous Work
Linda was previously co-chair of the Government Contractors group at Littler Mendelson PC and a member of the Executive Committee at Venable LLP. She also served as a major in the US Air Force Judge Advocate General Reserve Corps. In 2009, she was named to the advisory board of the William and Mary Journal of Women and the Law.
Professional Activities
Member, Law Firm Advisory Committee, Office of the Attorney General for the District of Columbia
Faculty Member, Professionalism for Law Students, Virginia State Bar
Former Officer and Member of the Board of Directors, WBA Foundation, Women's Bar Association of the District of Columbia
Former President, Virginia Women Attorneys Association
Former Member, Judicial Screening Committee, Fairfax Bar Association
Former Member of the Board of Directors, Fairfax County Bar Association
Former Member, Judicial Screening Committee, Virginia Women Attorneys Association
Former Chair, Elections Committee, Fairfax Bar Association
Former Member, Board of Directors, Arlington County Temporary Shelter
Former Member, Board of Directors, Volunteer Fairfax
Publications, Presentations & Recognitions
Linda is a well-recognized and well-published attorney. She has been recognized by Best Lawyers in America for her achievements in Labor and Employment Litigation and was rated as a leader in her profession by The Best Lawyers in America 2019 and 2020; named among the "Best Lawyers In Washington, DC" by The Washington Post; recognized as a Super Lawyer in the District of Columbia by Super Lawyers in 2020; selected as among America's Top 100 Bet-the-Company Litigators for Virginia in 2019; recognized as "Leading Business Litigation Attorney of the Year, Washington, DC" in Acquisition International's 2019 Leading Advisor Awards; named as a "Leader in the Law" in 2014 by Virginia Lawyers Media; recognized by Chambers USA in 2012; and awarded the AV Peer Review Rating by Martindale-Hubbell.
Linda was also named One of the Region's Leading Employment Defense Attorneys by Washingtonian in 2007. In its December 2017 issue, Washingtonian named Linda a "Top Lawyer" in Employment Defense law. Linda also is a fellow of both the American Bar Association and the Virginia Law Foundation.
Linda's publications and presentations include:
"

Treasury and IRS Release FAQs On Paid Sick and Family Leave Tax Credits for Small and Mid-Size Employers,

" Arent Fox Alert, Co-Author, April 2, 2020

"

D.C. Mayor Muriel Bowser Issues Stay-at-Home Order,

" Arent Fox Alert, Co-Author, March 31, 2020

"

Virginia Governor Issues Stay-at-Home Order,

" Arent Fox Alert, Co-Author, March 30, 2020

"

Maryland Governor Issues Stay-at-Home Order,

" Arent Fox Alert, Co-Author, March 30, 2020

"The Department of Labor Issues New Guidance Explaining Paid Sick Leave and Expanded Family and Medical Leave Under the Families First Coronavirus Response Act," Arent Fox Alert, Co-Author, March 27, 2020

"

A New Marshall Plan: Congress Nears Passage of CARES Act," Arent Fox Alert, Co-Author, March 25, 2020
"DC Mayor Muriel Bowser Issues Order Limiting Gatherings and Closing Certain Non-essential Businesses," Arent Fox Alert, Co-Author, March 25, 2020
"Virginia Governor Ralph Northam Issues Order Limiting Gatherings and Closing Certain Non-essential Businesses,

" Arent Fox Alert, Co-Author, March 24, 2020

"

Maryland Governor Larry Hogan Issues New Closure Order,

" Arent Fox Alert, Co-Author, March 24, 2020

"Temporary Office Closings, Furloughs, and Layoffs: What Employers Should Know About the WARN Act," Arent Fox Alert, Co-Author, March 22, 2020
"The District of Columbia Responds to COVID-19 Pandemic with New Workforce Protections," Arent Fox Alert, Co-Author, March 21, 2020
"The EEOC Issues Additional Guidance in Light of COVID-19 Pandemic," Arent Fox Alert, Co-Author, March 20, 2020
"FMLA Implications of the COVID-19 Pandemic," Arent Fox Alert, Co-Author, March 20, 2020
"President Trump Signs Bipartisan Coronavirus Relief Bill," Arent Fox Alert, Co-Author, March 19, 2020
"What the EEOC says that Employers Should Know about the ADA, the Rehabilitation Act, and COVID-19," Arent Fox Alert, Co-Author, March 18, 2020
"Discipline and Employee Rights During the Coronavirus," Arent Fox Alert, Co-Author, March 17, 2020
"OSHA's Requirements for Preventing and Minimizing the Occupational Risks of COVID-19," Arent Fox Alert, Co-Author, March 16, 2020
"FLSA Implications of the Coronavirus Pandemic," Arent Fox Alert, Co-Author, March 16, 2020
"House Passes Bipartisan Coronavirus Relief Bill," Arent Fox Alert, Co-Author, March 15, 2020
"Enforcing Non-Compete and Non-Solicitation Provisions in Virginia: Three Recent Takeaways From a Virginia Trial Court," Arent Fox Alert, Co-Author, March 6, 2020
"CDC Publishes Interim Coronavirus Guidance for Employers," Arent Fox Alert, Co-Author, February 16, 2020
"Comment Deadline Extended for Prospective FTC Rulemaking on the Use and Enforcement of Non-Competes," Arent Fox Alert, Co-Author, January 31, 2020
"The Future of Employment Non-Competes: The Federal Trade Commission Considers Rulemaking and Signals an Appetite for Stricter Enforcement," Arent Fox Alert, Co-Author, January 24, 2020
"Second Court Holds Evidence of Equal Work for Unequal Pay Not Required for Title VII Compensation Claims," Arent Fox Alert, Co-Author, December 26, 2019
"Maryland Enacts a Statute Prohibiting Non-Competes for Lower Wage Employees," Arent Fox Alert, Co-Author, July 10, 2019
"Relief for Out-of-State Employers of Californian Employees In Non-Compete Agreements," Arent Fox Alert, Co-Author, December 21, 2018
"Fourth Circuit Provides Guidance on Trade Secret Protection for Combinations of Public Information," Arent Fox Alert, Co-Author, December 12, 2018
"Ninth Circuit: Employers Cannot Depend on Employee Salary Histories to Combat Equal Pay Claims," Arent Fox Alert, Co-Author, April 23, 2018
"Online Job Applications – A New Target for Website Accessibility Claims?," Arent Fox Alert, Co-Author, April 12, 2018
"False Reps and Warranties: Is it Fraud or Breach of Contract?," Arent Fox Alert, Author, April 11, 2018
"Corporate Responsibility in the Age of the Me Too Movement," DC Bar, April 4, 2018
"Fourth Circuit Dismisses Sexual Harassment Claim of Former Employee Who Resigned Before Company Could Investigate," Arent Fox Alert, Co-Author, March 23, 2018
"Illinois Non-Compete Prohibitions Reflect Reform Efforts Nationwide," Arent Fox Alert, Co-Author, February 26, 2018
"Beware the Risks of Background Checks," Arent Fox Alert, Co-Author, December 19, 2017
"OMB Issues an Indefinite Stay of the Revised EEO-1 Form Intended to Address Wage Disparity for Women and Minorities," Arent Fox Alert, Co-Author, October 5, 2017
"Equal Pay Act: Pay Equity Analyses Demystified," Virginia Bar Association 47th Annual Conference on Labor Relations and Employment Law, September 16, 2017
"Facts Matter in Non-Compete Agreements," Arent Fox Alert, Author, August 1, 2017
"Unfair Competition and Intellectual Property Protection in Employment Law: Contract Solutions and Litigation Guide," BNA, Contributing Author, 2014
"Whistleblowing and retaliation: A Guide for Human Resources Professionals and Counsel," LexisNexis Retaliation & Whistleblower Claims by In-House Counsel, Ch. 11, 5th Ed., Contributing Author, 2013
Bar & Court Admissions

District of Columbia Bar
Virginia Bar

US Court of Appeals, 4th Circuit
US Court of Appeals, District of Columbia Circuit
US District Court, Eastern District of Virginia
US Court of Appeals for the Armed Forces
US Air Force Court of Criminal Appeals

Education

The College of William & Mary

JD

,

1994

Amherst College

BA

,

1987